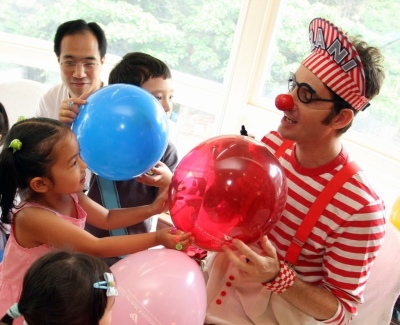 WHO ARE WE?
WHAT CAN WE DO?
Simply the best party entertainers in town ! Each performer listed on this website has years of experience as a professional children's entertainer. We love to do it and now we've decided to team up and work together to bring even more fun to the party !
Clowning, juggling, magic, unicycling, balloon modelling.... We have a broad shared set of skills, and we charge the same kind of rates, but each of us has developed a unique style, costume and routines. So you can hire one of us… Or all of us!  We love to work together !
WHAT IF NONE OF YOU IS AVAILABLE?
CAN I REQUEST A PARTICULAR ENTERTAINER?
It can happen occasionally ! We tend to be heavily booked, so contact us early to reserve the date… 
We always try to help, but if we really can't make it work ourselves, we'll try to put you in touch with other possible entertainers.

Of course! Everyone is allowed a favourite! We're keen to encourage a stronger relationship between parents and quality performers.
We want your kids to have so much fun that you recommend us to all your friends !

KIDS PARTY has years of experience